Websites that Save Money and Protect the Planet at the Same Time
As the number of trashed reusable items skyrockets, several online communities have resorted to giving away unwanted items for free.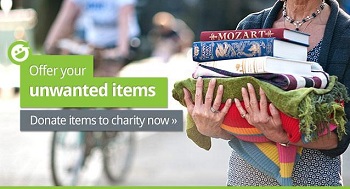 © charitychoice.co.uk
The issue of waste is becoming more and more pressing every day. In the USA alone 85 million tons of just paper is thrown away each year. The result is a growing focus on helping the environment through the three R's of the environment: reduce, reuse, recycle. To target the reuse aspect of this initiative three major sites have spawned:
Freegle, Freecycle, and Ecofreek.
There are a few primary points to each of these sites. Each site is completely free and founded with all the right morals. Every site has the goal of reducing waste through reusing old or unneeded products. An attractive side effect of distributing these unwanted products is how they are often given away for no cost. For some items some donors request an item swap just to feel that they got anything at all in return. This practice of swapping is not all bad for potential receivers of items, they often receive higher quality items and the swap wards away many who horde free items. Either way anyone who uses any of these sites will come away with amazing deals on products that would be otherwise trashed. The sheer savings offered by each of these sites makes them difficult to compare so here is a short break down.
Freeglе
Freegle is the UK's biggest online reuse network, making it ideal for anyone anywhere in the UK. What makes Freegle unique is their regional breakdown and their variety of postings. Freegle shows a dense map of regional organizations each with its own catalog, ensuring that users will find something nearby. Additionally Freegle has the rare function of being able to post a request for a free item rather than only free items being posted for the taking. The result is a variety of success stories such as a woman in search of a greenhouse and receiving a perfect one for free within two days!
Freecycle
In 2012 Freecycle broke the 9 million member mark, making it the largest environmental organization in the world. Today Freecycle continues to be a huge resource for finding free items especially in the United States. The massive selection of postings allows visitors with specific needs to track down nearly anything. Another benefit of the sheer popularity of the site is the ability to find items in within a short drive from home.
Ecofreek
The main advantage of Ecofreek is its multi-site search feature. Ecofreek scans over 45 unique classified sites including craigslist and its own directory to find the perfect item for users. This yields a range of results from free desk to free kittens, making Ecofreek ideal for every quirky need out there. A neat feature of Ecofreek is their text alert system, allowing a daily update on postings for items members have put on their wishlist.
You may also like: